PayTouch Allows Users to Pay with Their Fingerprints
30.04.2013
909 views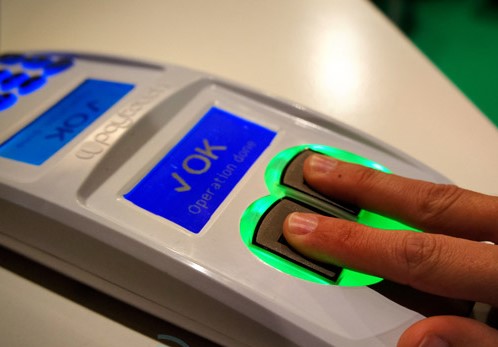 Fingerprints have value, certainly the amount of money people have in their bank. The Spanish startup PayTouch has developed a biometric system of identification and fingerprinting, which allows users to pay with their fingerprints.
These kind of biometric systems were developed before, but PayTouch has improved it, becoming the first one to use fingerprints with purchasing purposes, CEO Javier Peso told New Europe at The Next Web conference. "Our philosophy is that you are unique, because your fingerprints are unique, universal and unchanging over time", explained Peso.
If people don´t want to carry cash or cards, they just have to register at PayTouch and link their fingerprints to one or several credit cards. The system doesn´t store users´ fingerprints, allows people to pay in just five seconds, and makes easy to manage and monitor all payments.
Besides, Paytouch also benefits merchants, who will use a quick, personalised and intelligent service. In addition, they can create loyalty schemes or monitor transactions in real time.
Javier Peso explained to New Europe that the company decided to first apply the system at an international hotel in Ibiza, where guests were able to pay, check-in and check-out, have access to different events and receive special offers just using their fingers.
"We are receiving lots of petitions from outside Spain", said Peso. "Therefore, we are working in a new business plan which will allow us to be more international and target not just hotels, but also restaurants and retailers."
Next year, Paytouch aims to expand its system to the US and Asia, but its CEO highlighted that the way won´t be easy. "You have to be patient and be prepared to face obstacles like lack of budget, technological problems or operational issues", he said. 
To be startup in Spain is not easy. In the middle of the economical crisis, the main sources of founding are investors interested in the product, and lack of entrepreneurial culture make even more difficult to succeed, Peso explained.
"Spain is not an entrepreneurial country. If we want to build the Spanish Silicon Valley, we have to first change this mentality, which begins with a change on education", he stated.
"But now something has changed, we had realised that we have to innovate and go international", Paytouch CEO said, and added that event like The Next Web conference are a good opportunity to promote new ideas.
Source: New Europe