Citibank and American Express Announce Card Issuing Alliance in Asia
03.06.2013
948 views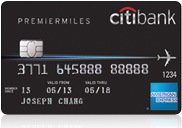 Citibank and American Express announced that they will be joining forces in Asia, starting with the launch of the Citi PremierMiles American Express® Card in Malaysia. Through this partnership, Citibank will issue cards in the Asia Pacific region, which will be accepted on the American Express global merchant network.
Jonathan Larsen, Citi's Global Head of Retail Banking and Asia Pacific Head of Consumer Banking said, "Citibank's partnership with American Express will allow us to be even more competitive in our credit card offerings across Asia and, of course, to offer even greater rewards and associated benefits to our cardmembers."
Anil Wadhwani, Citi's Asia Pacific Head of Credit Cards and Personal Lending and South East Asia Head of Consumer Banking added, "As Asia's leading card issuer, we are delighted to be partnering with American Express to bring our cardmembers new value propositions offering enhanced travel rewards."
Paul Abbott, Executive Vice President and Head of American Express' Global Network Partnerships commented, "We are pleased to announce an expansion of our partnership with Citi through a new card-issuing alliance in Asia. Through this partnership, we can work together to offer new card products with outstanding benefits and services that will allow Citi to deliver even greater choice and value to their customers across the region."
With its inaugural launch in Malaysia, the Citi PremierMiles American Express® Card offers an enhanced earn rate of 1 PremierMile for every RM2 card spent on everyday purchases, as well as the flexibility to redeem these miles for travel on over 90 airlines worldwide. Given this earning power, cardmembers can easily earn a return ticket to a worldwide destination of their choice based on their annual spend.
Cardmembers will also be able to enjoy complimentary airport limousine service from Kuala Lumpur International Airport upon their return, as well as unlimited access to select Plaza Premium Lounges in Malaysia, Singapore, Hong Kong and China. Beyond travel, this card offers other lifestyle rewards including a complimentary night stay after paying for two nights at select Shangri-La properties and privilege dining at more than 50 premium restaurants around Malaysia.
Sergio Zanatti, Citi's Head of Consumer Banking in Malaysia added, "At Citi, we constantly strive to ensure our products bring the best value to customers, and the Citi PremierMiles American Express® Card is the best-in-class travel credit card designed for Malaysian frequent travelers. With this card, they can earn miles faster on their everyday purchases, enjoy the widest choice in redemption and, with miles that never expire, they can fly anytime, anywhere."
Siew Choo Ng, Senior Vice President, American Express' Global Network Partnerships Asia said, "Moving forward, we will continue to work closely with Citi to create targeted products that will offer exclusive privileges and benefits on the American Express network."
The Citi PremierMiles American Express® Card will help meet the needs of the increasing number of travelers in the region as evidenced in Citibank's 2011 Emerging Affluent Survey. The Survey affirms that emerging affluent clients are increasingly global in their outlook with more than half having traveled abroad.
Following Malaysia, other Citibank cards will be launched on the American Express network in key markets in Asia.
Source: American Express
Source: American Express